MANCHESTER, NH July 26, 2021 — The mayoral campaign of Manchester Republican Richard Girard announced today that it's received its first response from the Manchester School District to Girard's Right to Know request for "Whiteness training" materials. On June 29, 2021, Girard wrote an open letter to Mayor Joyce Craig and the Board of School Committee demanding the materials be released.
Receiving no response, Girard filed a Right to Know Request with Craig on July 9th.
At the time, Craig's office responded that the requested information was "outside" of her control.
After Girard shared that email with the public, he received an email from City Clerk Matthew Normand saying his request had been forwarded to him and that he had sent it to Human Resources Director Kathleen Ferguson. Ferguson has replied to the request and the materials are being reviewed. Subsequent requests for additional information have been made and responded to. Girard will release all materials once all questions have been asked and answered.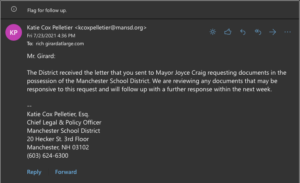 Responding to the email from school district attorney Katie Cox Pelletier (click on graphic above), Girard issued the following statement:
"The mayor and the school district seem intent on slow walking the release of this information, if they even release it at all. That they're not complying with the Right to Know Law by releasing information that's immediately available, like the seminar that sparked this whole controversy, isn't a surprise but it won't be a deterrent. Mayor Craig has now twice tried to dodge the issue by saying the material is outside of her control. The public knows better and knows exactly why she trying so desperately to keep it out of public view. She knows the public won't approve of this radical, racist indoctrination of our staff and students.
Mayor Craig, if you believe the public has a right to know, say so and demand the district release the information. If you support this kind of 'training' in the district or the city, say so and explain your rationale. It's time to stop pretending this is "outside" of your position and come clean with the public. You have actively chaired the school board for four years and haven't been shy about involving yourself in the district's operations. It's time for you to come clean on this issue."
Related articles:
Manchester School District Coordinator Resigns Over Whiteness Training
Manchester Schools Mandate Anti-Whiteness Training for Employees