For Immediate Release
Girard releases emails from Craig, Goldhardt
MANCHESTER, NH  July 12, 2021 — "On Friday, I sent a formal Right to Know request to Mayor Craig demanding the release of "Whiteness" training used for both school district and city employees.  Earlier today, I received this email in response: [Click on graphic for larger view]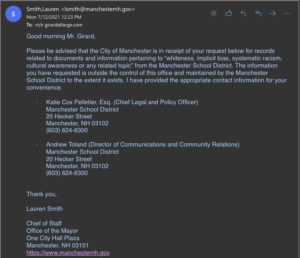 I immediately followed up asking the following:
"So, you're saying that Mayor Craig, as Chair of the Board of School Committee either has no access to this information or is unable to obtain it in reply to this inquiry? Or even forward it to the "proper" people?
Please advise.
One more thing, the request also seeks information for these materials from the city of Manchester, not just the school district.  Does the mayor not have the ability to produce that information either?"
As of this writing, there has been no reply.
"That Mayor Craig deems this information 'outside of her control' is not laughable, it shows just how far she's willing to go to not anger the left wing 'woke mob' that's backing her reelection.  Had I been mayor, I would have forwarded this request to all staff 'in control' of this information with the directive that it be released.  That she continues to stonewall the release of this information is typical of her brand of 'transparency' in government."
On March 18th, after reading the first story about this, I emailed Superintendent Goldhardt as follows, asking: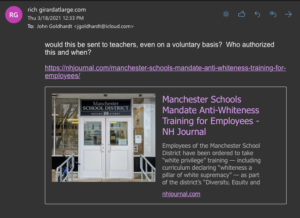 He replied: [Click on graphic for larger view]
"This reporter needs to use truth with headlines and not promote fake news. We offer lots of options for employees for professional learning.  This is one of them.  No one coerced or forced."
"He did not answer the questions about who authorized the training and when.  He ignored follow up questions regarding why the district would offer training that has, at its core, the idea that White people are inherently racist.  Also unanswered were questions about the truthfulness of of his 'fake news' claim given the information presented in the article.
This is at least the third time either Craig or Dr. Goldhardt have failed to release information.  Craig also refused a request from NHJournal.com to release employee 'diversity training' materials obtained with a grant from Bean Foundation.  They're covering up the use of these divisive and discriminatory materials because they know the public will be furious once they see it.
Not only won't I play these games as mayor, I'll deal directly with any employee that does and the information will be made public.  Period!  The people have a right to know."