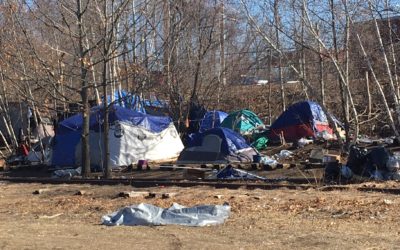 Getting a Handle on Homeless Vagrancy
The goal of this proposal is to adequately and compassionately assist homeless people who come from the city of Manchester without attracting the hordes of homeless from around NH and other states, which is currently happening and has led to what we see in our streets, parks and neighborhoods. The city will continue to attract the homeless so long as it focuses on accommodating them and turning a blind eye toward their behavior.
According to published media reports, more than 430 homeless are living on the streets, in the parks and on other public land and unattended private property. The city estimates there are more than 30 "camps" all over the city. In as much as city officials admit that 75% of the homeless in the city come from somewhere else, the primary focus in confronting Manchester's out of control homeless problem should be on making the city a less attractive place for homeless people to come.
With the vast majority of the homeless being those who abuse drugs and or suffer with mental illness, it is important to note that Rich does not believe that housing is a primary driver of homelessness. Experts believe that between 80% and 90% of the homeless have substance abuse and or mental health problems. That means that no matter how affordable, more housing will not prevent substance abusers and those suffering with mental illness from being on our streets.
To stem the tide of the homeless flooding into our city, as mayor, Rich would:
Crack down on illegally operating "sober homes." Not only are they a magnet for out of towners who end up homeless on our streets, as seen in multiple news reports, they lower property values, neighborhood quality of life and actually endanger the very clients they claim to help. Rich explains in greater detail in this OpEd published in the Union Leader.
Stop advertising, and eventually wind down, Safe Stations. It has imported thousands of people from across the state and nation to our city seeking recovery services. Approximately 60% of those who have sought help at a Manchester fire station are outsiders. Many of these people end up homeless on our streets, committing crime and doing drugs.
Instead, Rich would ask and work with the state to better promote its statewide Doorways program so that more people around the state knew where to access services in their local area rather than come to Manchester. Outside of Manchester, there are 8 regional "hub and spoke" systems set up to provide treatment and other assistance to those battling substance abuse. In Manchester, Rich would actively promote the "Doorway Hub," located at Catholic Medical Center, so those who need help would know to go directly there. If those in need of recovery can find their way to a Manchester fire station, they can find their way to CMC or to the services in their local area.
Rich would never use taxpayer or other money to fence in camps, provide them with 24/7 police protection, porta-potties, meal delivery, tents, sleeping bags, running water and more. That Mayor Joyce Craig and the Board of Aldermen did this immeasurably added to the city's homeless numbers and created even bigger problems once these services were eliminated.
Outreach teams, comprised of paramedics from the Fire Department and social workers, routinely visit homeless camps to offer assistance and shelter. Despite their efforts, the vast majority of homeless decline any help that is not brought directly to them in their camp.
To encourage people to use the services and facilities that exist to help, as mayor, Rich would:
Limit outreach teams to providing medical services, counseling and service referrals. Currently, these teams provide all sorts of supplies that simply ENABLE the homeless to stay where they are instead of going to the shelters, soup kitchens and other facilities that exist to help them. It is unrealistic to expect that people will leave the camps if everything they need and want is being brought to them. Moreover, Mayor Craig and Fire Chief Dan Goonan have urged the public not to provide supplies, saying it encourages the homeless to stay in the camps and avoid going to shelters and other facilities.So, this change will bring the city's own practices in line with their public statements.
Add a police officer to the outreach teams to advise the homeless of the various state laws and city ordinances they are violating and encourage them to accept the offers of assistance that are being made before the city begins enforcing the law. The message needs to be clear: "We are here to help but if you do not want the help offered, then we will not tolerate the violations of law that are ruining the quality of life in our city."
One of the vexing questions surrounding the homeless issue in Manchester is why the city hasn't enforced the many ordinances that simply do not allow for the behaviors that are harming our businesses, neighborhoods, streets, parks, trails and other lands. There are literally pages of ordinances, not including state statutes regarding things like trespassing, that could be used to address these problems. By failing to enforce them, Manchester is condoning their violation and encouraging behavior that is destructive to our quality of life. It is also creating hazards for the general public as well as those in the camps. Because the city turned a blind eye to the illegal use of propane heaters in the camps, multiple propane tanks exploded (11 in all), causing fires, injury and even death!
Therefore, to discourage the homeless from remaining unsheltered and not accepting of services, as mayor, Rich will:
Push for the aggressive enforcement of the the many city ordinances and state laws that bar the harmful, dangerous behaviors and activities that have made our city unfriendly to citizens, businesses and visitors.
Expand the camping ban to all public lands, without qualification, and require that those on private property have written permission from the property owner to be there.
Work with private property owners to post "no-trespassing" warnings that enable police to act when they see violators.
Lobby the state to change the "catch and release" bail reform law. According to former Hillsborough County Attorney Dennis Hogan, that law has made it so that those suffering from drug addiction or mental illness are no longer evaluated and treated while in the Valley Street Jail because they never get there.
The battle between the city and the state over "who's to blame" for Manchester's homeless problem has to stop. Mayor Craig's constant carping about alleged failures of the state to do its part is counter-productive blame shifting that deflects from the city's own failings, which have been addressed here. However, that doesn't mean that things can't work better.
To improve cooperation with the state, Rich, as mayor, will:
Ask that funds provided to Manchester based non-profit agencies for homeless and related services be funneled through the city's Community Improvement Program so the city knows who is getting money and can monitor its use to ensure it's being used as intended. If it's not, the city can notify the granting state agency to correct the situation or potentially withhold future funding. This will also help the city allocate its funds and other resources to agencies it supports because it will have immediate knowledge of the state's funding efforts.
Work with state officials to promote the Doorways program so that people in Manchester will go to CMC instead of a fire station and those outside our city will look for help in their local area instead of coming here.
Coordinate outreach activities so that everybody is working together and not just doing their own thing, which has led to finger pointing and blame shifting.
Finally,the city should continue to work with the many wonderful local agencies that are serving the homeless. They are on the front lines and should be heard. Rich's goal, as mayor, however, won't be to expand their capacity to serve an ever-growing number of homeless people who aren't from the city. It will be to help them serve, as responsively as possible, what he expects will be a dwindling number of homeless that will result from enacting this plan. Rich's goals are to shut off the magnets drawing the homeless or people likely to become homeless to the city, stop enabling homeless camps and negative behaviors, and make clear that, while Manchester wants and stands ready to help those in need, it will no longer allow those who refuse help to ruin the quality of life for the other 115,000 people and thousands business that call Manchester home.
Believe in Better!
Click here for the news reports used to demonstrate the problems identified in this proposal.
Click here for the ordinances that are being ignored.
Watch this brief video and read this article to better understand why Rich feels so strongly that the city must change course! Thanks!